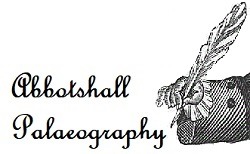 Transcription
Wills and testaments
To transcribe a testament consisting of 1 or 2 pages, I charge a flat fee of 16 GBP (20 GBP for a transcription plus summary in modern English).
For transcription of longer testaments, I charge between 12 GBP and 20 GBP per page, depending on the quality of the copy, the nature of the handwriting and whether a summary in modern English is required).
Other manuscript records
For transcription of other manuscript records, such as kirk session and presbytery minutes, I generally charge between 12 GBP and 20 GBP per hour, depending on the nature of the record, the quality of the copy, and the purpose of the research, plus any travelling expenses incurred.
Learning Services
Palaeography coaching
If you want to improve your skills at reading sources such as wills and testaments or kirk session records and can send me copies of documents you have, I can prepare a bespoke coaching session, using the specific documents and can offer this one-to-one coaching service online or to small groups online, and in some circumstances on-site.

Or I can proof-read a transcription you have made, suggest corrections and explain terminology and the meanings of older words and phrases.
My fee for these services is normally between 15 GBP and 40 GBP per hour, depending on the type of record and whether the consultation is for an individual person or small group.
Talks and training events
I can offer talks and training events to historical and other societies on the following topics:
Early-modern Scottish Palaeography: first steps (2 hour class for small groups)

Wills and Testaments: a practical guide to reading and understanding them (1 hour class)

Wills and Testaments: understanding inventories and other testament components (several 1-2 hour classes)

Kirk Session Records: a practical guide (1 hour talk)

Parishes and Districts: a guide to civil, ecclesiastical, registration and other parishes and districts (1-2 hour class)

Fees on request.
Research
Please note that I do not, as a rule, carry out family history research, but am prepared to carry out research in the search rooms of the National Records of Scotland and other archives, usually involving early-modern records. In certain cases I can recommend appropriate commercial researchers or sub-contract work to them.
Payment methods
If I accept a commission, I will normally invoice for payment, giving payment method details. I accept payment by UK bank transfer (BAC), PayPal and by Sterling cheque.